Bellas Goodie Haarreif / Hairband:

Bella trägt in Twilight & New Moon sehr oft einen Haarreif, der Haarreif ist von der Marke goodie in der Frabe braun schwarz.
With Bella in Twilight & New Moon very often a headband, the headband is of the brand in the goodie frabs brown black.
Kaufen/ buy it:
http://cgi.ebay.de/TWILIGHT-Bella-Haarreifen-2-St-Goody-Stayput-NEU-/190540238286?pt=DE_Filme_DVD_s_TV_Fanartikel&hash=item2c5d154dce
http://shop.ebay.de/i.html?LH_AvailTo=77&_nkw=twilight+goody
Bella´s Braune Jacken/ Bella´s brown jacket´s:
Bella trägt öfters in den Twilight Filme brauen Jacken sie hat 2-3 verschiedene Jacken in der Farbe braun.
Bella in the Twilight movie with often brew jackets she has 2-3 different jackets in the color brown.
Kaufen / buy it:
http://cosplaysky.com/twilight-new-moon-bella-swan-brown-twill-jacket-costume.html
http://cosplaysky.com/twilight-bella-swan-brown-wool-coat-jacket-costume-tailor-made.html
Bella´s Handschuhe/Gloves:
Ok Bella hat meiner Meinung nach ganz besondere Handschuhe ich finde sie total flauschig da ich sie selbst auch habe und weiß wie warm sie im Winter sind kann ich sie nur empfehlen.
Ok I think Bella is very special gloves I find totally fluffy as I have myself also and know how warm it in winter I can only recommend.
kaufen/ buy it:
http://cgi.ebay.de/New-Gray-Mittens-Like-Kristen-Stewart-Twilight-Bellas-/280688699811?pt=US_CSA_MWA_Gloves_Mittens&hash=item415a59a9a3
http://cgi.ebay.de/New-Blue-Mittens-Like-Kristen-Stewart-Twilight-Bellas-/280688702181?pt=US_CSA_MWA_Gloves_Mittens&hash=item415a59b2e5
nicht die gleichen aber so ähnlich/ not the same but simular: http://cgi.ebay.de/New-Fingerless-Gray-Gloves-Mittens-Like-Twilight-Bella-/270759091029?pt=US_CSA_MWA_Gloves_Mittens&hash=item3f0a7fdb55
Bella on Hemd´s/Blouse:

Bella ist ein Mädchen das oft nur Sachen trägt die auch bequem sind. Bella trägt deshalb einfach meistens Blusen oder Hemde. Meist sind die weiß mit Blumen oder kariert.
Bella is a girl that often things that are comfortable with it. Bella with most so simple blouses or shirts. Most are white with flowers or checkered.
Kaufen/ buy it:
http://cosplaysky.com/twilight-eclipse-bella-phillip-lim-plaid-shirt-costume.html
http://cgi.ebay.de/JOIE-Vtg-Embroidered-PEASANT-Top-Twilight-Bella-Pin-/290570912855?pt=US_CSA_WC_Shirts_Tops&hash=item43a7604457
http://cgi.ebay.de/BELLA-TWILIGHT-H-M-DIVIDED-BLUE-PLAID-SHIRT-US-2-34-/160597186225?pt=UK_Women_s_Tops_Shirts&hash=item25645696b1
http://coolspotters.com/characters/bella-swan/and/clothing/lucky-brand-embroidered-top#medium-973180
Sorry an alle aber zur zeit gibts die meistens Blusen nicht vorallem in Deutschland gibts die garnicht.
Sorry to all but the time has the most blouses and if not then just Replicas
Bella´s Simple Shoes/Schuhe: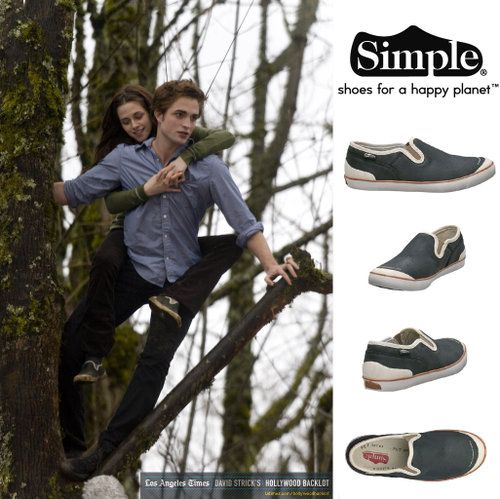 Über den ganzen ersten twilight Film trägt Bella fast nur diese Schuhe und zwar sind das Simple Shoes Womens Retire. Leider sind die zimlich teuer da sie schwer zu bekommen sind ich selbst versuche sie schon seit Jahren zu ergattern leider kosten die mir nur etwas zu viel.
Over the whole of the first twilight movie is Bella almost only those shoes and that are the Simple Women's Retire Shoes. Unfortunately, the zimlich expensive because they are hard to get, I myself try to get hold of them for years, unfortunately cost me a little too much.
Kaufen/ buy it:
in Deutschland gibts die nicht.